Raison d'être
2019/20
installation of the textile work Raison d'être
atelier view

materials: silk, wick cord, metal
dimensions: 280 x 110cm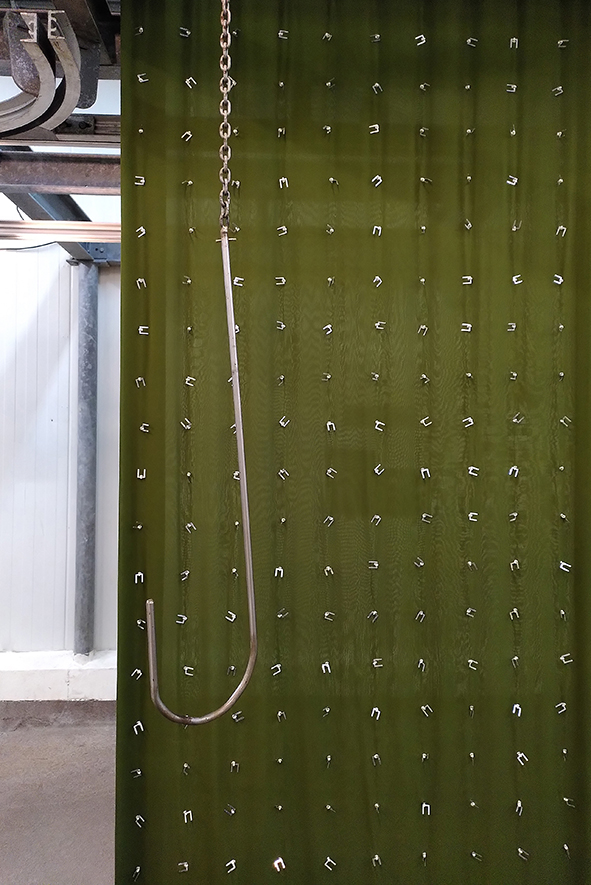 Raison d'être, 2019/20
exhibition view


Part of the group exhibition

BANG

at CC Vleeshaak, Antwerp, BE
14 - 24/10/21
The work Raison d'être finds its origin in Armenia's second biggest city Gyumri. In 2019, I participated in a research project regarding an area at the outskirts of Gyumri. After a catastrophic earthquacke in 1988 the Soviet Union had begun to build apartment blocks for the citizens who had lost their home. With the collapse of the soviet union in 1991 the construction was put on hold. Subsequently, the site became an abandoned area with a remarkable soviet architecture that altered and fell apart over time.
Within our research group we developed and discussed possible futures of this part of the city. For me, it was essential to understand how this site was currently being used. Encounters with people became my primary objective and a starting point to think about architecture and urban planning.
Next to this study of crossing paths and "immaterial interconnection" with a place I paid attention to material pieces, mainly industrial trash that piled up inbetween the apartment blocks. I felt the need to collect some materials. The metal parts were so distinct in shape and yet not definable in their function. Implemented in my work they regain functionality and a new purpose in life, holding the white wick cord in place by interlocking. Thereby two layers of green silk are connected. A soft wall evolves and speaks of interconnection, attachment, structure and fluidity. Furthermore, it picks up the idea of a (decorative) pattern created through repetition of the same shapes. A central stylistic device that is present in the Armenian architecture and culture.